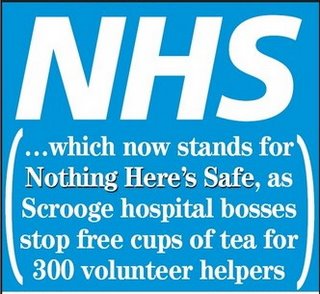 It's all happening this weekend in the Thanet Gazette.
First-off, a fourteen-year-old boy accused of making his own "porn movie" with the assistance of two ten year friends, not girls, I should add. This small story has left me temporarily speechless, so I'll move on to the Scorpion in the bananas, allegedly purchased from Asda in Broadstairs, reason number 431 to shop at Morrisons!
In an effort to save money and the NHS, Margate hospital is cutting free coffee for its volunteer workers, who contribute 1,000 hours a week. Please bring your own thermos in future.
(photo from Kent Observer)
Westgate is to be given its own beat officer, with the credit being given to pressure from, well of course, the Thanet Gazette. Apparently the local residents, me being one and lost for any kind of representation, have been calling for more policing and the Gazette has intervened, with the result that PC Chris Bungard is to become the new beat officer; better than none at all but 9am to 5pm I assume? Tell me it's not so please!
In its new-found role of concerned public champion and 'righter of wrongs', the Gazette has also taken residents complaints involving cars being sold off the streets of Westgate to the council. The same story you may remember ran here last year, when after a number of calls and letters to the council, a collective effort succeeded in having Westgate bay Avenue and Westbrook Avenue re-zoned. All that's happened of course is that the street traders have moved their business to the roads that aren't restricted, St Mildred's road being one.
A couple of new local websites for you and you'll find links to them in the sidebar.
The first is
http://www.thebestof.co.uk/
which aims to offer the definitive news and information resource for the different towns in the area and the second is a Weblog, Tony Flaig's
http://bignewsmargate.blogspot.com/
Finally, I see Smudger is after his own back in his column, describing me as an "Extra from Top Gun." but I'm a little too old now and aerobatics makes me ill.