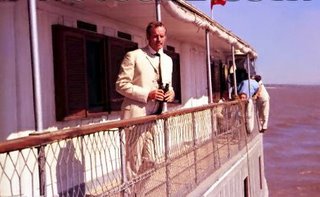 Some years ago, when I was visiting Africa, a friend who worked for the World Bank, pointed at a non-descript African gentlemen sitting at a table in the restaurant we were in. "There", he said, "is where the £36 million pounds of aid to repair the country's road system went. You'll have noticed the sorry state of the roads I'm sure."
In today's Sunday Times, Rod Liddle writes:
"What a lovely photo. Gordon Brown in Maputo, the Mozambique capital, last week beaming like a big benevolent white god, a bunch of happy little black children hunkered down at his knee. It was only when you read the copy that you found out that the benevolence was all yours.
Brown had flown a bunch of hacks to Mozambique so he could be photographed being nice to Africans with enormous amounts of your dosh. In a week when we learnt that our National Health Service is some £750m in the red and a British woman had to go to court to screw the money from it to have her life prolonged with Herceptin, the requisite anti-cancer drug, Gordon bunged a staggering £8 billion over 10 years to Africa."
Read on
..
Ed: It's sad that the actor Charlton Heston, who has played Moses, Ben Hur and Gordon of Khartoum in his time, is now too old to play Gordon Brown. It would be a great part in an epic movie but the role will now go to comedian, Rory Bremner.