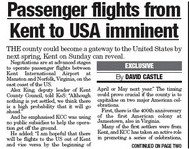 Tomorrow's 'Kent on Sunday newspaper will reveal that Manston could become the 'Gateway' to the United States, by the Spring, with advanced negotiations underway between Kent International Airport and Norfolk Virginia on the US east coast.
There's also a withering attack from columnist David Mairs, on "Bob the builder filling his boots", populating the island with concrete. Funnily enough, I notice that in the desperate search for new housing space, the tiny car park next to what was once the Kings Antiques shop in Westgate is being filled with a "deceptively spacious" house. Kent, by the way, will only receive 10% of the infrastructure costs needed for building the thousands of houses that will soon arrive or at least that's what the paper reports, so you might want to run out and get a copy with your Sunday Paper tomorrow, it's free.
Finally, I notice that both Kent on Sunday and the Gazette have picked-up as headline news, what I suggested here when the Turner Contemporary project went "tits up" the other week. I asked, if you recall, if there might be an exit clause and cost in the contract to build it and coincidentally noticed some interesting activity, visiting on the website from the Edmund Nuttall domain. It transpires of course that their will be an exit cost, which could rise by a further £1 million.
There's a horribly smug temptation to write "told you so" but I won't.